Turnering
PPTQ Tales Part IV: Cirkeln sluts
I den avslutande delen om höstens PPTQ:ande är Snurvel tillbaka där artikelserien började, i lärdomsstaden Uppsala. Den här gången går det bättre än senast och rapporten innehåller endast en beskrivning av en förlustmatch för vår protagonist.
av Snurvel_
18:23, 26/12 -17
läst 1986 ggr.
Skriv ut artikel


15

kommentarer

Vi kan börja berättelsen med att den ovan nämnde protagonisten, alltså jag, er ödmjuke berättare, sitter på tåget mot Uppsala en tidig andra adventsmorgon. Det visar sig att SJ
inte tog till sig av min kritik efter min förra resa och därför ihärdar med att dörrar ska öppnas som i en sci-fi-film, och toaletter ska vara trasiga
. Vi hittar mig mitt i ett halvhjärtat försök att intressera mig för ett reportage i SvD Näringsliv och ett helhjärtat försök att bälja i mig den största och starkaste kopp kaffe som kunde fås för pengar på Centralstationen. Jag brukar nu faktiskt dricka te som frukostdryck, men idag gör jag ett undantag. Jag har nämligen inte bara barn utan även ett öronbarn, så ibland får man acceptera att bli väckt runt 00:00, igen vid 02:00 och att gå upp 04:00. Det är inte ens särskilt jobbigt, om man nu inte fått för sig att spela Vintage Challenge på Magic Online* och sedan komma på att man lovat slå in och gömma undan julklappar innan man lägger sig. Då kan det hända att man kommer i säng först runt halv ett. Då krävs kaffe till frukost.
Men tåget är i tid och jag hittar dit jag ska sedan förra resan hit, så jag vandrar glatt iväg till Prisfyndet utanför vilket det redan bildats en liten klunga karlar i åldrarna 20 – 40. Jag frågar försynt om herrklubben tar emot fler medlemmar och får svar av Robin
Fluffigt
:
- Åkte du själv hit?
- Jodå, inte lät jag någon annan åka åt mig inte. Svarar jag.
- Vem gör det?, Frågar han.
Eftersom jag antar att han menar "vem åker ensam till en PPTQ?" återberättar jag historien om när jag anmälde mig per telefon, vilket klart liknade samtalet jag just haft:
- Hej, jag skulle vilja föranmäla mig till PPTQ:n.
- Det går utmärkt, vad heter du?
- Janne.
- Har du någon kompis också?
- Jo det har jag, men ingen som jag vet skall spela nu på söndag.
Det verkar som om förväntan är att man skall ha med sig minst en vän, helst flera, när man PPTQ:ar. Jag har aldrig sett det så,
även om det kan vara trevligt med lite sällskap
. Jag tror det handlar om varför man spelar. Jag spelar Magic av två skäl. Dels för att
jag inte kan låta bli
, men minst lika mycket för att kvala till touren är något jag försökt men inte lyckats med. Det mesta annat jag föresatt mig att uppnå i livet har blivit av, t.ex. tog jag universitetsexamen (två faktiskt) och sprang ett marathonlopp (under fyra timmar). Men kvala till touren har jag försökt över 20 gånger och ännu inte lyckats med. Och ska man vara helt ärlig så hade jag tänkt på två kompisar som kunde hängt med, men en skrev tenta och den andra var i Madrid.
Vi blir i alla fall exakt 32 deltagare (dvs vi ska bara spela fem rundor swiss) och får långt om länge sex paket Ixalan som vi såklart inte får öppna på ett tag och en lista för registrering som ganska exakt 16 av de 32 deltagarna lyckas fylla i fel uppgifter på redan innan domaren gett oss order att börja. Det hela tar mig tillbaka till de dagar då jag (ensam såklart) dömde större turneringar i Sealed Deck. Tänk om alla följde de tre L:en: Lugn. Lyssna. Läs. Sen kan man fylla i listan. Jag fyller i min lista först (och korrekt) men det utdelas inga priser denna dag för min prestation.
Jag får registrera en riktigt bra pool, egentligen bara bra blå och gröna gubbar, de flesta med Explore, en sund dos removal/trick och en naturlig splash i form av setets kanske bästa rare för Sealed,
Hostage Taker
. Tyvärr är det här leken jag registrerar, inte den jag ska få spela med. Den pool jag tilldelas har ungefär tio bra svarta kort, tio bra blå kort, tio bra gröna kort och ett bra vitt kort (
Settle the Wreckage
). Om vi inte räknar prerealesen har jag kört fem Sealeds med Ixalan, alla utom en har varit blågröna (den sista, och enda 5-0-leken, var grön-vit). Mina lekar tillsammans med de jag mött gör att jag uppskattar att blågrönt är den bästa kombinationen i c:a 75 % av fallen. Det händer såklart att någon annan kombination är starkare tack vare brutna rares eller synergier som kan uppstå i ett tribal-format (typexempel min 5-0 GW som hade sju vita removal och tre bra vita rares), eller att endera blått eller grönt är ovanligt tunt på spelbara kort. Tyvärr verkar jag ha blivit tilldelad en pool som är en av den svaga halvan av de 25 % icke grönblå. Jag velar en massa om vad jag ska spela, särskilt ångestfyllt är beslutet om att spela den kalla
Lurking Chupacabra
eller splasha in
Settle the Wreckage
. Till slut kommer jag på att Chupacabran + en Explore är en tvåkortskombo för att ge en gubbe -2/-2, men
Settle the Wreckage
och antingen
New Horizons
eller
Contract Killing
är en tvåkortskombo som vinner matchen. Så det blir
Settle the Wreckage
. Och en till splash för
Shapers of Nature
. Då har jag nästan 23 spelbara kort.
Spelad av:
Snurvel_
Inlagd: 20:54, 20/12 -17

kommentar:
- inget :( -
Lek från turneringen: PPTQ Richmond
Format: Sealed DeckStorlek: 40 kort
Färger:
Exportera till Magic Online
Exportera till Apprentice
Exportera till Magic Workstation
Skriv ut

108:-

Manakurva

Färgfördelning

Guldfiska! [lek]221188[/lek]
Köp leken! Proxa leken!
Jag frågar domaren om jag får spela osleevat, det vill säga limited på riktigt, vilket jag starkt avråds ifrån.
- De länder vi har är i många fall slitna, och det är ditt ansvar att inga kort är märkta.
Så jag biter i det sura äpplet och köper ett 80-pack plastfickor. Det fanns klart billigare 50-pack, men jag tänker att ska jag ändå köpa kan jag ju ha 40 till min första lek och 40 extra till min top8-lek. Och sen kan jag ju återanvända dem till en Constructedlek. Sen kommer länderna vi ska använda fram och de är helt nya (fortfarande inplastade) från fabriken.
Sen är det äntligen dags för:
Runda 1: Peter med BR-aggro
Peter vinner tärningsslaget och gör en rejäl aggrostart med tur två
Wanted Scoundrels
, tur tre
Headstrong Brute
och tur fyra två 2/2:or. Jag lägger min egen
Wanted Scoundrels
och lyckas enchanta den med
Mark of the Vampire
när Peter är uttappad. Den får slå oblockad genom 2/2:orna (har ju 5 toughness). Eftersom jag även har
Pounce
på handen får jag till en ganska sjysst life-swing och sedan är duellen mer eller mindre över.
Till duell två har jag öppningen tur fyra
Jade Guardian
och min kompis
Mark of the Vampire
till den turen efter. Peter landfloodar hårt och har inget att sätta emot. Wow,
Enchant Creature som ger lifelink
som faktiskt är bra på egna gubbar vinner matchen**. Det hade inte hänt 2003, om jag säger så. 1-0.
Efter min match speccar jag runt lite i lokalen, går ut och andas frisk luft och sätter mig sedan ned lagom i tid för:
Runda 2: Tomas med BW Vampyrer
Tomas lek är en massa vampyrer. Några av dem har flying. Jag har också vampyrer med flying. När vi bytt bort dem utvecklas matchen till ett board stall med mig på otrevligt låg livstotal, 3. Den ser ännu otrevligt lägre ut när Tomas lägger sin
Sanctum Seeker
. Det finns två vampyrkompisar på bordet så en attack nästa runda blir lethal. Jag topdeckar
Walk the Plank
och sedan sätter min
Shapers of Nature
igång med att distribuera +1/+1-counters och långsamt nöta hem duellen, trots både
Skulduggery
och
Vampire's Zeal
från Tomas.
Till den andra duellen får jag en fin starthand med två
Skymarch Bloodletter
,
Seekers' Squire
och fyra länder. Sedan drar jag länder, länder och mer länder, nio på bordet och tre på handen tur tio. Tomas lägger land sina sex första turer och efter det lägger han inga länder. Jag förlorar mina flygare i ett byte och till
Slash of Talons
. Lyckas dra Shapers (bra vid flood!) och
Lurking Chupacabra
som jag brädade in då i stort sett alla Tomas djur har två i toughness. Jag blir lite ivrig i en combat trots att jag såg två trick förra duellen och blockar på ett sätt som är bra för mig om Tomas bara har ett trick. Han har såklart båda och det är dags för duell tre.
Jag mullar. Sedan mullar jag igen. Två länder.
Ixalli's Diviner
Tishana's Wayfinder
,
Jade Guardian
. Bra femkortshand. Tomas lägger tur tre
Skymarch Bloodletter
och tur fyra
Sanctum Seeker
. Jag bluffar igenom fem skada mot Seekern som han inte vågar blocka med. Sedan lägger jag en blocker (mitt sista kort på hand). Tomas glömmer bort triggern från sin Seeker och lägger ett combattrick för sin enda vita mana för att rädda sin blockade
Sanctum Seeker
. Tiden tar slut i rundan. Jag drar
Crash the Ramparts
och attackerar för exakt Tomas livstotal (9).
Återigen Wow. Topdeckade
Walk the Plank
och
Crash the Ramparts
precis när jag behövde dem för att ta hem en tight match. 2-0.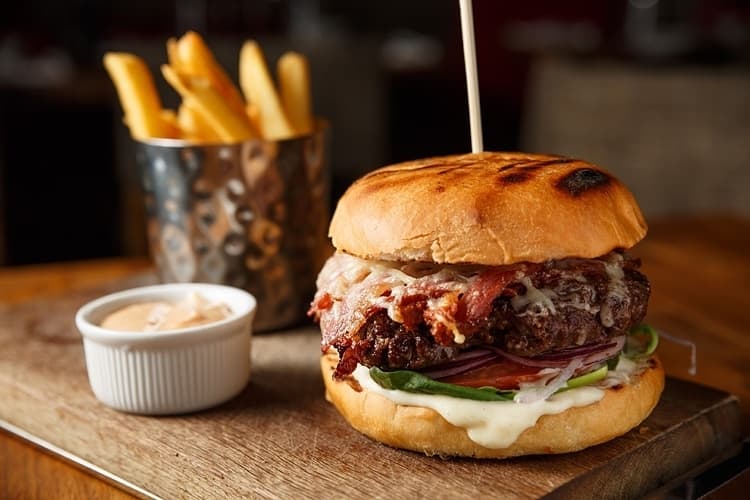 Nu är det lunchpaus. Tomas verkar vilja äta med sina kompisar hellre än mig trots att jag bad om ursäkt för min topdeckröta. Helt okay för mig, de vill ha hamburgare och jag vill ha pasta. Så jag vandrar iväg mol allena till Sandys och försöker intressera mig för The Stand - Uncut Edition (Stephen King) som jag hade med till tågresan. Går inte alls. De där tre sömntimmarna är ivägen. Jag läser några magicartiklar på telefonen istället. Det verkar som det heta samtalsämnet är "abuse in the gaming community". Jag har
tidigare skrivit om den upplevelse som ens "medspelare" kunde ge en tidigt 2000-tal
. Jag är den förste att skriva under på att kvinnosynen inte alltid är den bästa på en Magicturnering. Det där, det måste vi få bort. Ur Magic liksom ur samhället. Å andra sidan, vet ni vad motståndarna säger till en i ett fotbollsstraffområde? Vad lagkamraterna säger i omklädningsrummet? Det handlar påfallande ofta om dina kvinnliga släktingar kan jag avslöja…
Till runda tre ska jag möta Niklas. Alltså Niklas som spelade PT Ixalan senast för att han vann MOCS. Jag är lite starstruck. Jag vill också vinna ett MOCS. Vi snackar lite Magic Online och jag berättar om hur jag missade Top8 i Iconic Masters PTQ:n på tiebreakers. Efter att ha plockat upp förluster i runda fyra (mot den berömda Modo Shuffler som i två dueller gav mig exakt tre Plains) och åtta (mot dubbla Wrath i avgörande duell. Jag spelade runt den
Supreme Verdict
han signalerade men hade svårt när han följde upp med
Austere Command
) låg jag inför sista rundan på övre tiebreakerhalvan, så jag tyckte mina chanser borde vara goda. Att min motståndare i runda tio förlorade torde vara självklart men dessutom förlorade de jag mött i runda sju, åtta och nio. Kommer man på plats 15 av 420 borde man väl egentligen vara nöjd, men jag känner att jag satt uppe till två på natten till ingen nytta. Eftersom jag kört tre drafter Iconic innan PTQ och gått 3-0, 2-1, 3-0 var jag säker på att ta hem T8:an om jag kommit in.
Runda 3: Niklas med UG Merfolk
I första duellen stannar vi båda på tre länder. Jag för att jag inte drar några fler. Niklas för att han säger "go" och sedan försöker spela sitt land. Jag drar några gubbar jag kan lägga för mina tre forests. Niklas spenderar både tur tre och fyra med att göra sin
Daring Saboteur
oblockbar och loota. Då känns det som jag har en ganska bra chans trots mina få land. Och när Niklas tappar ut sig har jag en lämplig
Crash the Ramparts
för exakt lethal. Jag trodde att den där crashen kanske skulle vara bra någon gång i kombination med
Emperor's Vanguard
(som jag aldrig drar), men istället har den fått vinna två dueller helt på egen hand.
I duell två stannar vi på fyra land båda två. Niklas har alla bra Merfolk, bl.a. Shapers. Den är inte strålande med fyra mana dock. Jag lyckas lägga
New Horizons
på en av mina fyra
Forest
så att jag kan få ut en 4/4
Bloodcrazed Paladin
. Jag lyckas även hitta min trogna
Mark of the Vampire
. Sen vinner jag på att mina gubbar är större. Vem kunde trot?
Giant Growth
för tre mana och
Spirit Link
för fyra är mina MVP idag. 3-0.
Vi spelar även en rättvisematch för Niklas vill testa sin svartvita lek. Han fullständigt kräks ut gubbar och jag får chumpa tills jag får ihop "kombon"
Contract Killing
och
Settle the Wreckage
när han slår med laget. Tydligen gick hela lunchsnacket i det där gänget jag inte åt med ut på vilka som hade Settle i sin lek, så fällan borde kanske varit uppenbar?
Parallellt med gårdagens Vintage Challenge körde jag en Ixalan Sealed för att känna lite på korten inför dagen. Den lek jag hade då var något bättre än dagens, en blågrön lek med splash för
Hostage Taker
och flera sätt (t.ex.
Siren's Ruse
för att göra den ännu bättre. Jag började 3-0 men sjönk sedan tillbaka till 3-2. Som tur är så är vi nu fyra spelare som gått 3-0 och jag ritar ett litet flödesschema och förklarar att vi inte mött varandra ännu (eftersom vi samtliga vunnit alla våra matcher) men kommer göra det nästa runda om vi alla tar draw. Så det gör vi, två gånger i rad, och ockuperar platserna 3-6 i slutgiltiga standings. Vi testspelar lite för att fördriva tiden medan de andra spelar och jag förlorar varenda duell. Niklas ber om hjälp att räkna på tiebreakers inför sista rundan och jag kommer fram till att han kan ta en draw men troligen inte den han möter. Han spelar och förlorar. 3-0-2.
Efter en längre övertalningsperiod lyckas jag få med mig en av de övriga tre 3-0-2:or på att gå för att köpa en kaffe, Ted hänger med för att stilla mitt koffeinbehov. Vi diskuterar en klassisk fråga som uppkommer när man gått längre än planerat i en Magicturnering, hur ska man förklara för sin partner*** att man inte kommer till middagen? Antingen kan man sälja in från början att "jag är borta hela dagen och kvällen, nås ej på telefon", vilket gör det lättare när det går bra men å andra sidan finns inget vettigt att göra då de dagar det går dåligt. Som alla vet är det enklare att be om förlåtelse än tillstånd så att säga "ses om tre timmar!" är också ett spelbart alternativ. Det finns inga rätta spel, bara fel av olika slag sluter vi oss till. Sen köper jag kaffe (Ted en smoothie) och vi går tillbaka. Jag halsar mitt kaffe och tar sedan en snabb, solitär, promenad runt kvarteret för att försöka hålla mig vaken.
Inför top8-draften ser jag att min motståndare från runda ett, Peter, tagit sig in tillsammans med bl.a. Robin och såklart vi fyra 3-0-2:or. Robin lyckades tydligen precis ta sig in och till toppen av standings via en match "där Vraska låg i spel flera rundor". Att den var på hans sida hjälpte nog till. Jag får en (dryg och helt utan data som stödjer den) känsla av att jag har solklart mest erfarenhet av Ixalan draft runt det här bordet, och bestämmer mig för att forca rödsvart aggro. Det går mycket snabbare i detta format än man tror sina tio första drafter, så jag vill ha en så snabb lek som det bara går.
Draften börjar och jag tar bl.a.
Swashbuckling
som andra pick för att följa min strategi från ovan. Problemet är bara att det inte kommer så mycket bra röda kort. Och noll svarta kort. Inga bra kort alls egentligen, men en del spelbara blåa kort lyckas jag snappa upp, t.ex. par i
Storm Fleet Aerialist
. Men rött är torrt som fnöske. Hade verkligen förväntat mig att få niondepicka
Fire Shrine Keeper
t.ex. Förutom ett förvånande sjättepick
Firecannon Blast
. Samtidigt seglar massor av bra gröna kort förbi. Jag har nästan bestämt mig för att släppa rött för grönt när jag i andra paketet öppnar
Lightning Strike
. Och sen får jag en del okay blått. Har efter ganska mycket ångest kommit till samma slutsats inför pack tre (jag kan ju splasha striken) när jag öppnar
Repeating Barrage
, och får tredje pick
Charging Monstrosaur
, och den här gången går
Fire Shrine Keeper
runt. Hittar även en till
Swashbuckling
och en
Siren Stormtamer
som jag tar över
Unfriendly Fire
. Leken blir en ganska okay blåröd aggrolek:
Spelad av:
Snurvel_
Inlagd: 21:06, 20/12 -17

kommentar:
Tempo, tempo, tempo
Lek från turneringen: PPTQ Richmond
Format: Booster DraftStorlek: 40 kort
Färger:
Exportera till Magic Online
Exportera till Apprentice
Exportera till Magic Workstation
Skriv ut

72:-

Manakurva

Färgfördelning

Guldfiska! [lek]221189[/lek]
Köp leken! Proxa leken!
Robin, som passat till mig pack ett och tre, börjar skratta direkt efter draften och ber om ursäkt för att ha gett mig i uppgift att tolka de "blandade signaler" han skickade. Jag skrattar jag med för jag är glad över min Monstrosaur, vilken jag verkligen inte väntade mig med tanke på pack ett. Att rött skulle vara tunt i pack två var väntat, till vänster om mig öppnades och first pickades
Vance's Blasting Cannons
. Att jag ändå spelade rött? Tja, hellre bli stabbad i ett paket än två, och man ska ju slå alla sju runt bordet. Dessutom är Stationen mycket mer kontroll än vad jag var ute efter så jag borde fått plocka upp lite röda aggrobilder även i pack två.
Nya sleeves, ny match och nu ska jag möta:
Kvartsfinal: Ted med RG Dinosaurier
Min fikakompis direkt i kvarten alltså. Jag hade hellre väntat till finalen. Jag får börja då jag låg bättre i standings och tar en mulligan. Sen stannar jag på två länder. Men jag lyckas öppna med
Siren Stormtamer
och följa upp med
Storm Fleet Aerialist
och tur tre
Fire Shrine Keeper
. Ser ganska bra ut tills
Raging Swordtooth
kommer ned tur fem och dödar mina knytt. Fortfarande på två länder skickar jag
Lightning Strike
i huvudet för att ta Ted till fem. Med
Repeating Barrage
på hand kan jag bara attackera med Aerialisten, dra ett land och vinna. Drar ett land, men det är en Island. Chumpar med min Aerialist för att överleva en tur till och drar, en Island! 0-1.
Till duell två får jag min bra starthand,
Siren Stormtamer
och två
Storm Fleet Aerialist
. 1-1.
Duell tre börjar som duell ett. Jag tar en mulligan och stannar på två länder. Jag hittar dock några modiga 1/1:or och
Swashbuckling
. Drar sedan land tre och fyra. Spelar inte så stor roll. Ted har massor med land och få creatures, varav en är manaalven
Drover of the Mighty
, en äkta flood. Det påminner trots det lite om ett race men det är för att jag hellre låter mina djur slå än blocka och jag vinner i tur sex. 2-1.
Jag är glad för min semifinalplats, senast i Uppsala kom jag ju bara till kvartsfinal innan jag mullade ut mig ur turneringen. Ted väljer att få sina priser i Iconic Masters och jag uppmanar honom att öppna fyra
Horizon Canopy
på sina två paket (borde gå, ett vanligt och ett foil i varje).
Semifinal: Fexil med BW Vampyrer
Fexil heter egentligen något annat, men i en postmodern värld väljer vi själva vad vi vill heta. Jag föreslår anagrammen X-file eller LifeX för att dra det hela till sin spets, men det är gameface på och inget napp.
Jag börjar i alla fall med att ta en mulligan. Stannar på tre land. Sedan bygger jag en 3/3 Menace med hjälp av
Swashbuckling
och
Fire Shrine Keeper
och använder mina studs för att tvinga Fexil till dåliga blocks. Kan gå det här! 1-0.
I duell två ser jag en starthand med två
Run Aground
och fem länder. Försöker igen och hittar fem länder och en
Lightning Strike
. Tar en andra tripp till Paris och får en spelbar hand i form av
Shaper Apprentice
och
Charging Monstrosaur
. Drar en massa länder och en
Swashbuckling
. Försöker göra ett race av det men
Mark of the Vampire
på en 3/2 sätter stopp för det. Hittar inget av de tre studsen jag spelar. Eller
Firecannon Blast
för att bränna ihjäl den. Eller
Watertrap Weaver
för att tappa ned lifelinkern i två combat steps. Fexil har 26 liv när han vinner. 1-1.
Lyckas under sideboardingen få Fexil att släppa game face och snacka om söderort (bästa delen av Stockholm!) där vi båda bor, Bajen (som bara jag håller på av oss två) och lite annat. Det visar sig att Fexil gärna vill gå för att träffa en väninna här i Uppsala, och jag tycker att han lika gärna kan göra det nu för jag vill gärna vinna. Fexil hinner aldrig ta det för mig rätta beslutet att scoopa för domaren avbryter oss för att vi "inte är fokuserade på spelet". For the record så var jag så fokuserad på spelet som min sömnbrist tillät och jag har faktiskt noll intresse av att min motståndare ska vara det eller att någon som ska vara neutral ska hjälpa motståndaren att vara det.
Jag ska erkänna att jag inte minns den sista duellen av semifinalen särskilt väl. Sömnbristen har kommit ikapp mig. Mina anteckningar säger att jag tog matchens fjärde och slutspelets sjätte mulligan innan jag stannade på två länder. Fexil förnedrar mig med limited all-star
Ritual of Rejuvenation
(jag antar att den brädades in mot mig) för att vinna duellen (och matchen) med livstotal över 20 igen. 1-2.
Bättre varje gång skulle den positivt lagde säga. Förra gången i Uppsala kvartsfinal, nu semifinal. Och att bara förlora en match på hela dagen och det till min oförmåga att blanda mer än min oförmåga att spela kort är ju inte så tokigt. Faktiskt kommer jag bara på ett tekniskt fel jag gjorde på hela dagen, glömde lägga in en Treasure i spel i sista duellen för dagen när jag egentligen redan förlorat. Och jag fick ju fyra paket Iconic Masters att lägga i bokhyllan.
Fast nej, det suger att förlora. Jag slösade bort ännu en dag av mitt liv på att inte vinna. Artikelserien slutar i moll.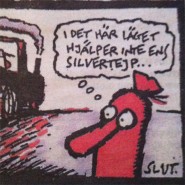 *: Bäst EV på Magic Online! C:a 40 deltagare. Top 32 går runt. Top 16 klart plus. Dessutom är Vintage på Magic Online mycket plånboksvänligt, moxar går att få för runt 14-15 tickets (en dollar per ticket) istället för över $1000 som de kostar i verkliga livet.
Och ibland, efter en dålig dag, är det bara skönt att lägga tur ett:
Mishra's Workshop
,
Foundry Inspector
,
Sol Ring
,
Foundry Inspector
,
Steel Overseer
,
Walking Ballista
,
Sphere of Resistance
och sedan säga "din tur".
Jag rekommenderar alla att ge sig in i Vintage (online).
**:
Spirit Link
var helt okay i limited, man lade den på motståndarens gubbe som en sorts semi-
Pacifism
.
***: Detta gäller såklart endast för oss som har en partner som inte är en gamer.
PS. Innan jag åker hemåt snackar jag lite med butiksinnehavaren som undrar om det är jag som författar den här lilla artikelserien. Jag erkänner utan omsvep. Han säger att han tänkt sig mig lite annorlunda. När jag frågar hur då svarar han, på ett mycket finare sätt än jag nu beskriver det, att jag skriver som om jag vore lite tjockare, lite äldre och klart mer närsynt. Jag försvarar mig med att jag opererat bort min närsynthet, träningen inför det där marathonloppet höll magen i schack och det där med åldern, jag har liksom hållit på med det här spelet hela mitt vuxna liv och lite innan dess, det blir några år av anekdoter även för en annars ung, snart 35-årig kille. Jag vill bara säga, kul att ni läser och kul med återkoppling, det är för den jag skriver! DS