Nationals 2018! Turnering [Standard]
Coverage Nationals: Finalen mellan Vidar Hesselman och Joel "heffaklumpen" Larsson, samt segerintervju!
I finalen i detta års upplaga av SM möttes Vidar Hesselman med RB Chainwhirler och Joel "Heffaklumpen" Larsson som spelade Esper Kontroll. Här berättar vi om hur det avlöpte, vi kan utlova några snygga spel, samt bjuder på en snabb segrarintervju med en glad svensk mästare.
av Snurvel_
18:50, 19/8 -18
läst 5490 ggr.
Skriv ut artikel


4

kommentarer

På grund av tekniska problem begränsas beskrivningen av finalens duell ett till en sammanfattning som vi tackar huvuddomaren och vår svenske mästare för hjälpen med:
Vidar som högre seedad fick börja spela i duell ett. Vidar kurvade ut de tre första turerna men stannade sedan på tre länder, vilket ledde till att Joel fick tid att svara på de hot som låg ute.
Vidar begränsades till att lägga ett hot per runda av sina manaproblem.
Det ledde till att Joel fick ut en
Teferi, Hero of Dominaria
som slapp bli hotad av ett fyrdropp. Vidar lyckades få bort den första Teferin men Joel hade en till och tog över kommanot i duellen med hjälp av den.
Duellen avgjordes då Joel fick ut två
Torrential Gearhulk
s, Vidar kunde bli av med den första med en
Unlicensed Disintegration
men den andra tog hem duellen efter fyra attacker.
I duell två mullade båda spelarna en gång vardera.
Joel håller en hand med
Isolated Chapel
,
Search for Azcanta
, två
Fatal Push
,
Infernal Reckoning
och
Vraska's Contempt
, scryade till botten och drar
Island
I sitt första draw step.
Vidar inleder med att spela
Mountain
. Joel börjar med
Isolated Chapel
.
Vidar lägger i tur två sitt andra
Mountain
och
Heart of Kiran
.
Joels tur två ser honom spela sitt
Island
och en
Search for Azcanta
.
Vidar lägger tur tre
Aether Hub
,
Scrapheap Scrounger
och crewar
Heart of Kiran
för att ta Joel till 16.
Joel azcantar till graven och lägger ett tappat dubbelland.
Vidar använder sin energi till att ta svart mana ur Hub och lägger
Duress
, vilket Joel svarar på med
Infernal Reckoning
i
Scrapheap Scrounger
. Duressen visar två
Fatal Push
och två
Vraska's Contempt
på Joels hand, varav en Contempt rycks av Vidar. Scrounger crewade Heart innan den exilades och Joel går ned på 12.
Joels Azcantatrigger låter honom lägga översta kortet i graven, och han lägger sedan en till
Search for Azcanta
för att fylla graven.
Vidar lägger en tredje
Mountain
,
Hazoret the Fervent
och crewar sin
Heart of Kiran
, hjärtat skjuts ned i combat av Joel som lägger
Fatal Push
.
Joel kan nu i Upkeep få exakt sju kort i graven och kan flippa fram Azcanta, the Sunken Ruin och passar sedan turen.
Vidar lägger en
Chandra, Torch of Defiance
, som Joel direkt använder sin Contempt på.
Vidar fortsätter sedan att lägga ett hot per tur, men lyckas inte få
Hazoret the Fervent
i slagläge då han inte lyckas tömma sin hand. Att
Aether Hub
gör sin bästa (sämsta?) imitation av
Tendo Ice Bridge
bidrar tillsammans med relativt dyra kort till problematiken.
Joel som bara behöver ett svar per tur har i tur och ordning svar på Vidars
Ahn-Crop Crasher
,
Goblin Chainwhirler
och två
Glorybringer
. Den tur som Vidar testar sin första
Glorybringer
kan Joel tack vare att han manarampat med Azcanta både kontra och leta med Azcanta, the Sunken Ruin, vilket helt vänder matchen i hans favör.
Turen efter kommer nämligen en
Torrential Gearhulk
från toppen som flashar en
Vraska's Contempt
i Vidars latent farliga
Hazoret the Fervent
och matchen tar snabbt slut efter att Gearhulken attackerat fyra gånger.
Joel "heffaklumpen" Larsson och hans Esper kontrollek vinner alltså SM-finalen med 2-0! Vi tog såklart chansen att få en intervju med den glade segraren:
Grattis! Den klassiska frågan: Hur känns det nu?
- Mycket bra, jag var oväntat överväldigad av segern. Känns roligare än att vinna en GP nästan. Det var skönt att få visa att jag förtjänar min plats i det svenska VM-laget, även om jag är på väg mot nya horisonter i livet.
Berätta om leken, varför valde du att spela just den?
- Jag frågade Thomas Hendriks som jag testar en del med, han spelade den helgen innan och den hade gjort goda resultat. Hann själv testa den ca fem ligor innan SM.
Vilket kort är bäst i leken? Och vilket var ditt surprise tech som du överraskade motståndarna med?
-
Vraska's Contempt
var bäst.
Det är väl svårt att påstå att man har något hemligt tech när man spelar en känd lista, men fler
Essence Extraction
än vanligt var en överraskning som gick hem. Life Gain gör att du slipper kontra så mycket mot rödsvart och kan utveckla ditt eget bord istället.
Gjorde du något snyggt play du vill berätta om?
- Lägga en andra Search när jag har en i spel för att trigga Revolt till min Fatal Push (i semifinalen, reds anm) var något jag inte gjort tidigare. Även att lägga en extra Search for Azcanta rakt ned i graven för att manarampa en tur tidigare (i finalen, reds anm).
Tankar inför World Cup? Hur känns laget? Hur lägger ni upp speltestningen?
- Det är det bästa lag vi haft! Punkt. Och jag känner båda väl. När jag och Elias teamat i GP har vi dessutom gått topp fyra båda gångerna, så det ser bra ut.
Slutligen, grattis igen!
- Tack.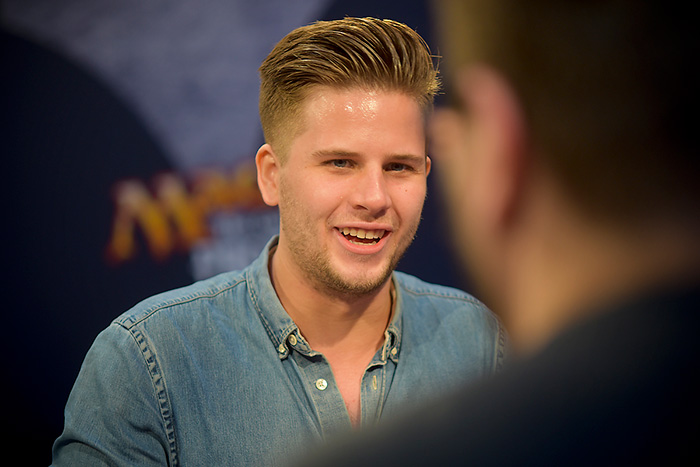 En äldre bild på en ung, glad segrare